WEEK TWO: ROCK CLIMBING
Another great photo shoot. It's kind of a risky theme, I certainly see a LOT of girls messing up here, but actually most of the pictures turned out pretty good. I like the simple white background, most of the wardrobe choices are pretty good, and no one's supposed fear of heights got in the way. I just wish they'd edited out the cords, but what can you do.
1) Ebony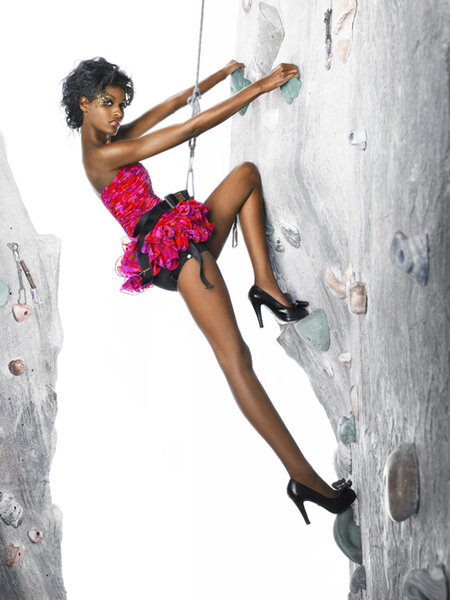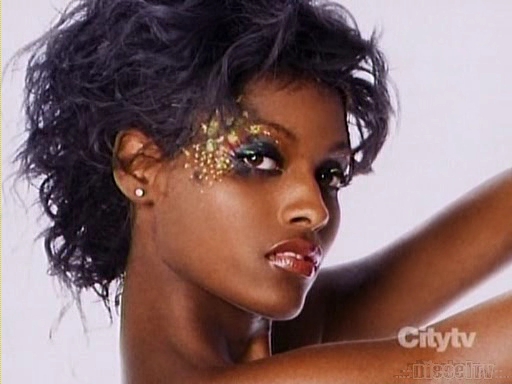 I love this picture. MASSIVE improvement over last week's. Her body is damn near flawless, I obviously her legs which look 10 miles long, and she kept her arms straight without them looking stiff. I think this is the perfect example of Ebony being one of, if not the most modelesque girl in this season. I like the way she cocked her head, shows off bone structure and her awesome jaw, and I actually think the snarl works here, and I love the eye contact. Gorgeous. The only think I'd change would be to angle her left leg a bit better, since it looks like it's shorter than the other, but the overall impression is just too strong to give this anything other than a first call-out.
2) Lisa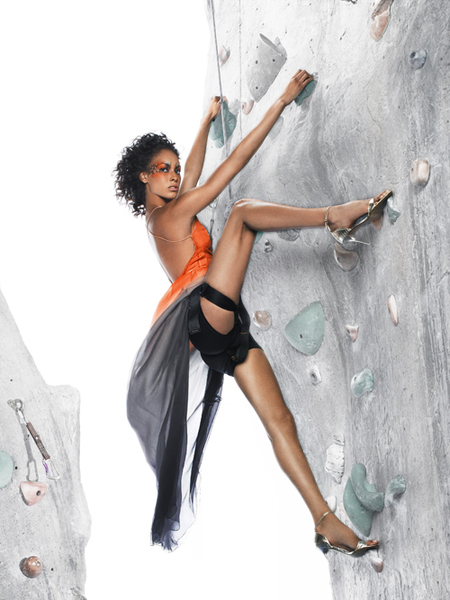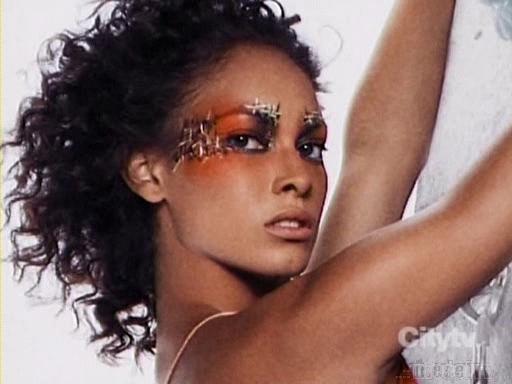 Woah, those legs! This is unbelievable. I love how she, along with  Ebony, is actually rock climbing, not just hanging on to the rocks. Probably the most dynamic one in the bunch, and the intense eye contact is to die for, she makes it look so effortless. The angle is perfect for her face as well, look at those cheekbones! But what really seals the deal for me is her amazing body pose, she's showing off her body flawlessly. Considering how incredibly annoying I found Lisa on the show, she's already now proving to be one hell of a model.
3) Victoria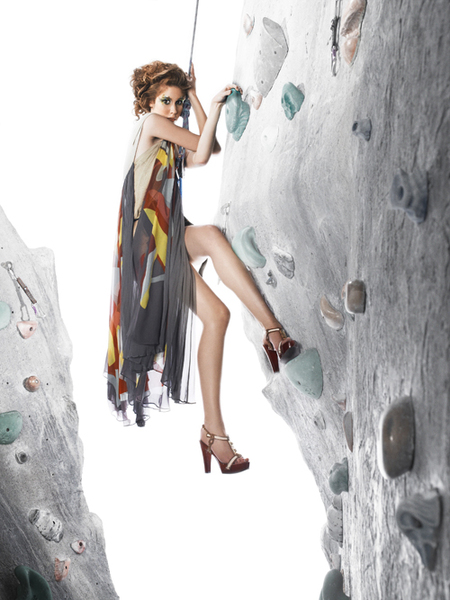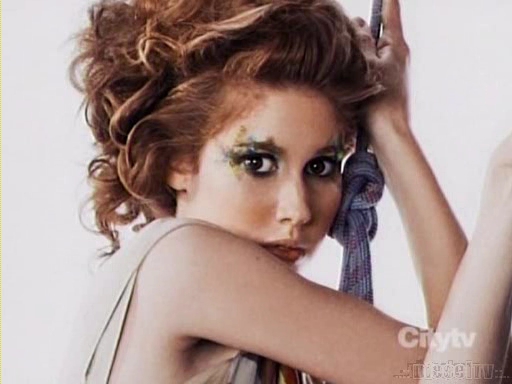 There is something delightfully quirky and offbeat about this, which makes it stand out from the others. The legs look gorgeous, I love how she bent them to look even longer, the angles are perfect. She's selling the dress as well, I love how elegantly it falls on her. The eye contact is gorgeous, and I love how she's actually covering some of her face and still make it work. I can't get over how beautiful her eyes are. Stunning picture.
4) Jenah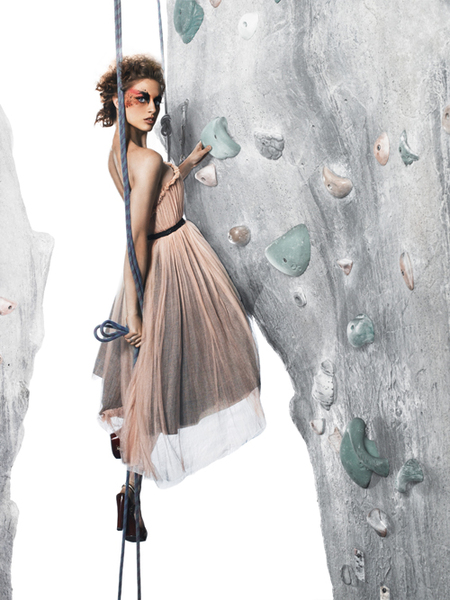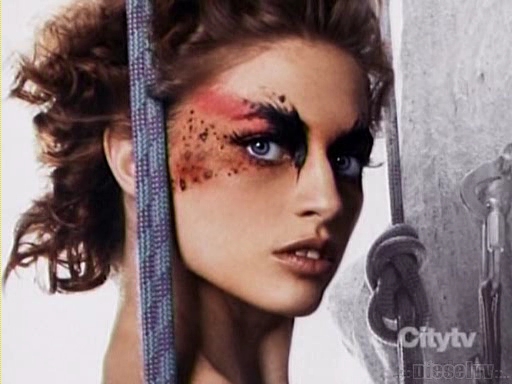 Another one who found the perfect angle for her face. Stunning close-up! Her eyes are mesmerizing, I love her lips, and that jawline. Good God she's beautiful here. Her neck is crazy tense though, but she managed to cover that with the cord, so it's fairly easy to overlook. I love how she's showing off the dress as well, the fabric looks gorgeous. I just feel like there's something missing – it's a beautiful picture yes, but she's just hanging there. It's not boring per se (it probably would have been, had the model been anyone less good), just not as dynamic as some of the others.
5) Heather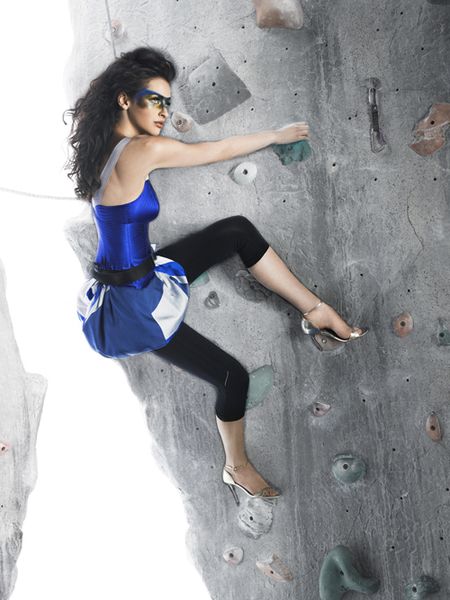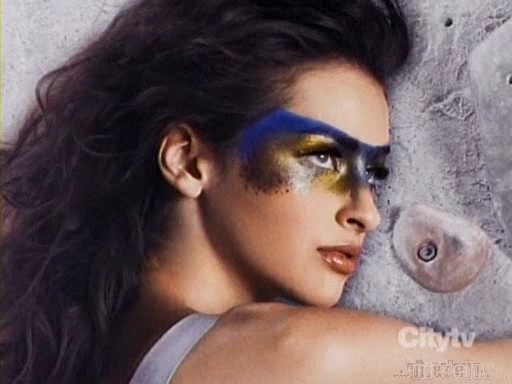 Once again, gorgeous face. Heather's ethereal beauty translates wonderfully into pictures, her close-ups are always among the best of the bunch. I love her eye contact, the angle is perfect for her jaw, and she's in profile without making it seem like she's just rehashing it. I love how big her hair is as well, and I love her dress., Her body is good, overall – I wouldn't mind her showing some more neck, I can't see her left arm, and her right arm looks kind of short, but that's it. Her legs are great, I love how slim her thighs are too. And I want those shoes. Great picture.
6) Janet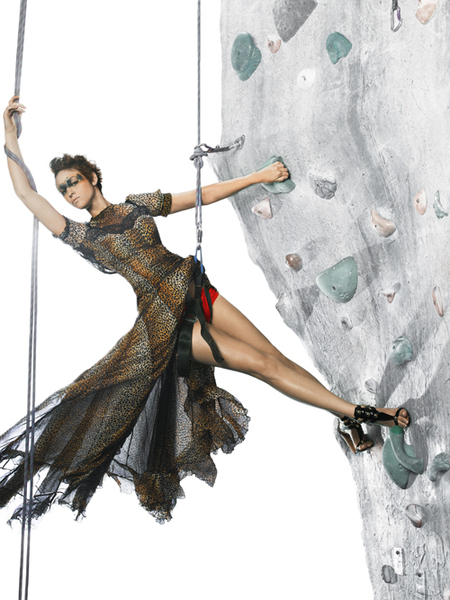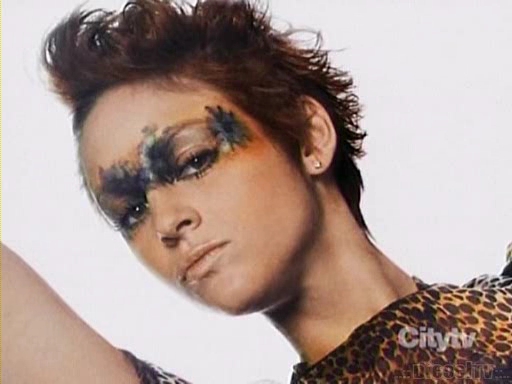 Considering how bland Janet was in person, I'm quite surprised that she turned it out once again. Her legs are phenomenal, I LOVE her arms and how she's actually incorporating the rope instead of just letting it hang there. Her body looks slamming to me (hourglass figure? Love it!), though she's basically just making a line, and the dress looks great on her. The face is good – the eye contact is to die for, the angle is good, but there is a bit stiffness there, which I could be without. But overall, another stunner from Janet.
7) Sarah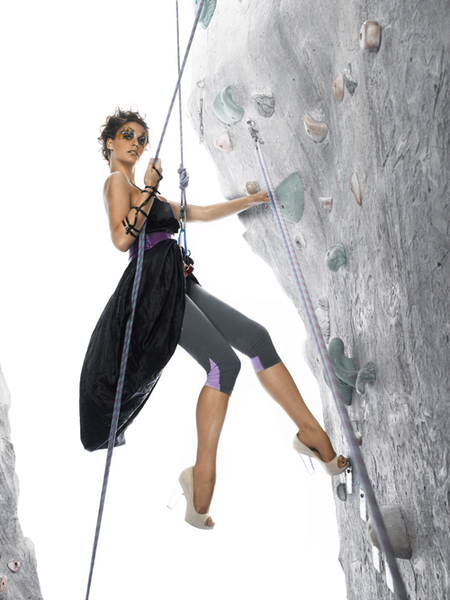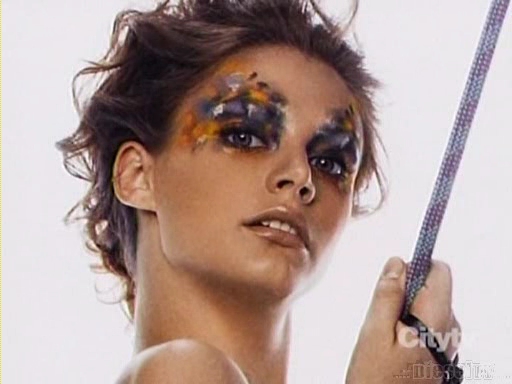 Good God, Sarah is so hot. Her legs just go on forever! I'd never guess that Sarah was the plussie (or, I guess the kinda-plussie) of the season by seeing this picture, she's presenting her body flawlessly. And she's flexing her feet again, which once again works. Her face is obviously stunning as well (does she look like Jenah to anyone else here?), and the angle is excellent. I can't get over how many great pictures this shoot produced! There's still a few great ones left, and we're almost at double digits. The only thing keeping this from top 3 is the neck, which creates a good angle for her face, but looks kind of stiff.
8) Chantal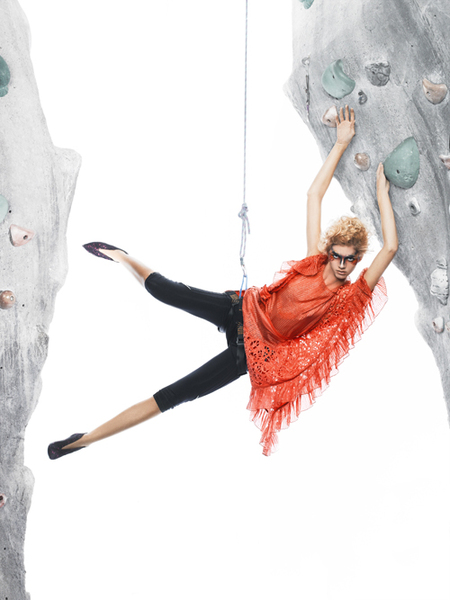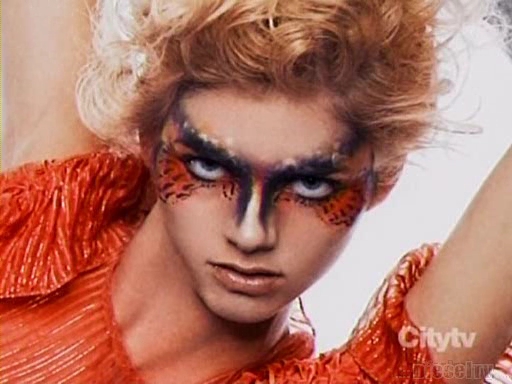 Chantal seriously doesn't belong in the bottom half either, this is gorgeous. The close-up is one of the best, her eyes are ferocious, and I love her lips. Stunning! I really like her arms as well, the way she's holding on to the wall is genius, and the pose is obviously very creative and stands out. My complaints are minor – I don't like that she lost her neck (a thing I hate, because a neck-less picture can work, but sometimes it detracts from the aesthetic value of the picture), and her legs look a bit out of control for me – long, but out of control, so it looks a bit like she's falling.
9) Kimberly (eliminated)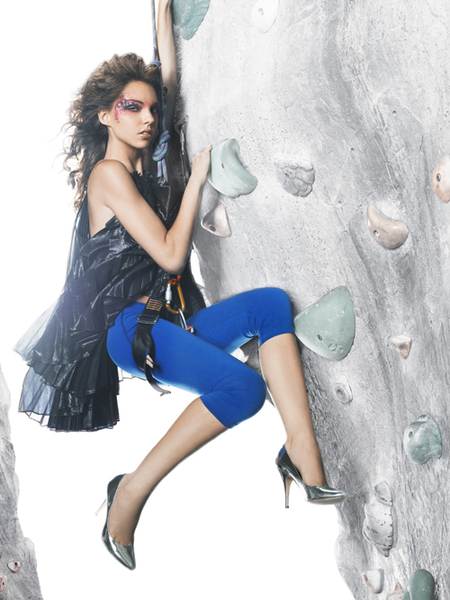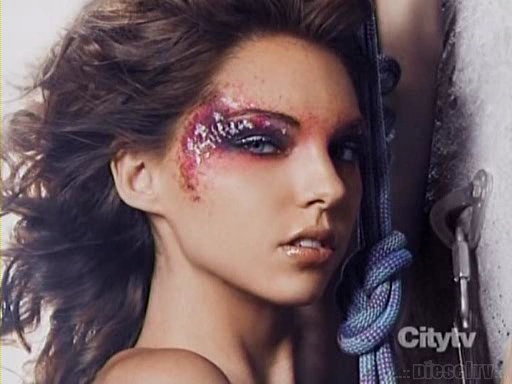 I feel so inclined to cry foul and call Kimberly's elimination the token bullshit one of the season, since this is a good picture, and her picture last week was great – but the elimination order of this season is so screwed up, we have worse eliminations coming. This is nowhere as great as the eight pictures above it, but I still really like it. Her legs look hot (and long!), and the angle is good on her face. She could have done more with her body though, and her eyes aren't great – it's like she's going for this sensual expression, which doesn't really work for the shoot. But overall a good picture, and in no way elimination-worthy.
10) Ambreal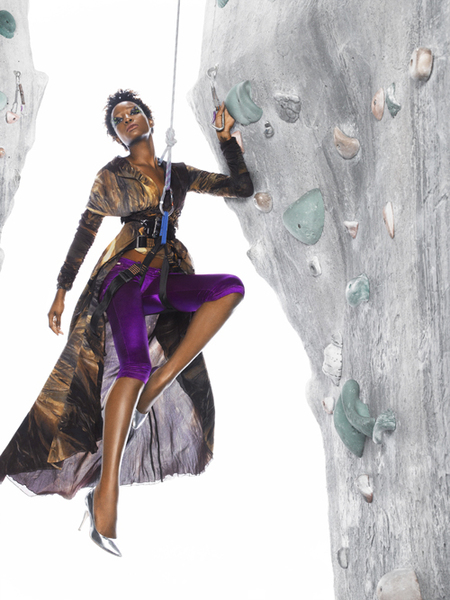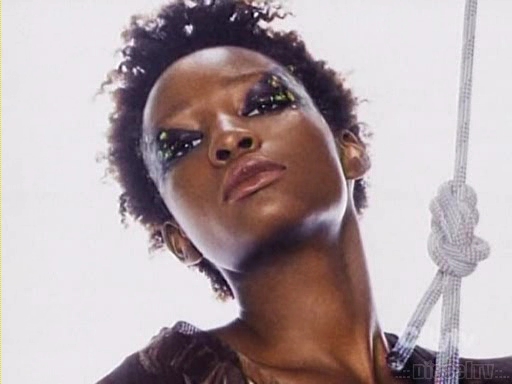 I feel like a hater, putting Ambreal so close to the bottom for one of her best pictures… I liked Ambreal, but she just wasn't a good model to me. I like her legs here, and her left arm – I wish she'd angled her right arm more though. But what destroys it for me is her face – it's a mess. The angle isn't flattering (I hate up-the-nose-shots), and she has dead eyes – something Ambreal never mastered was her eyes. And does her eyebrows look weird to anyone but me? Still, this isn't terrible. Just unsatisfactory compared to the rest.
11) Bianca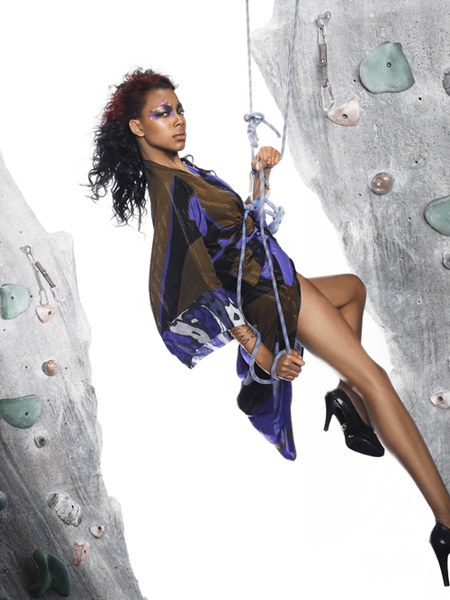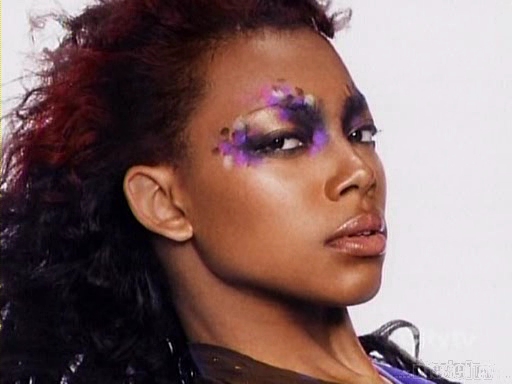 God damn it, I hate Bianca's picture this week. The quality of the pictures dropped dramatically all of a sudden. She looks pissed off, her body looks stiff, and this is the first of tons of pictures where she's just leaning back. This is an example of her body basically making a straight line, like Janet, but it just doesn't work here. I have to give her credit for making her legs (or, one of them, at least) look long. Her jawline also looks great from here. But other than that, she just looks like a pissed off, butch woman.
12) Saleisha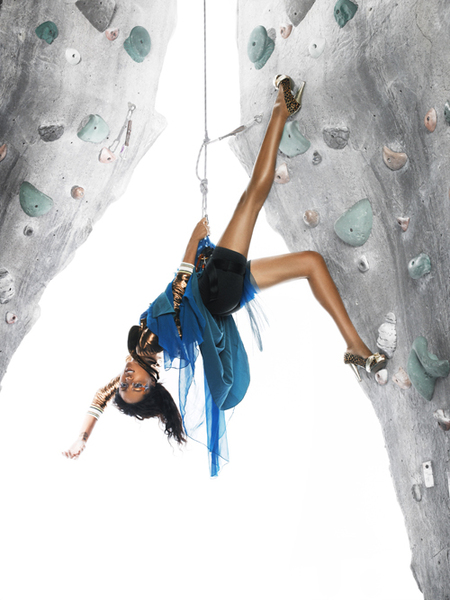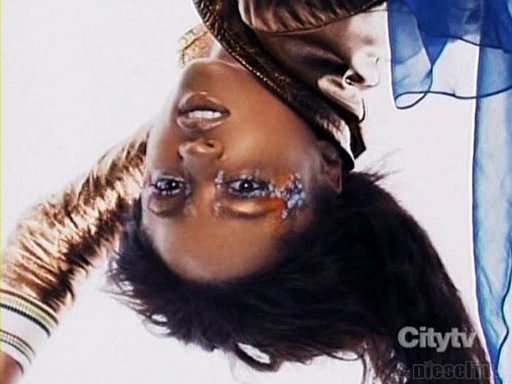 Her legs look nice and long. There. I said something positive about this picture. Other than that, nothing works – it looks like she's falling, her mouth is randomly open, she's creating an arm-penis and she has no control whatsoever over what's going on in the picture. Terrible picture. I wish I could say her picture next week is an improvement.
AVERAGES
1. Lisa (2.0) 2/2
2. Janet (3.5) 1/6
3. Jenah (4.0) 4/4
4. Ebony (5.5) 10/1
5. Victoria (5.5) 8/3
6. Chantal (5.5) 3/8
7. Sarah (7.0) 7/7
8. Kimberly (7.0) 5/9 – Eliminated week 2
9. Heather (7.0) 9/5
10. Saleisha (9.0) 6/12
11. Ambreal (10.5) 11/10
12. Bianca (12.0) 13/11
13. Mila (12.0) 12 – Eliminated week 1
ELIMINATIONS
Ambreal: 0
Bianca: 1
Chantal: 0
Ebony: 0
Heather: 0
Janet: 0
Jenah: 0
Kimberly: 0
Lisa: 0
Mila: 0
Saleisha: 1
Sarah: 0
Victoria: 0